Does yoga help with psychological complaints?
On: 2 May 2019 74 views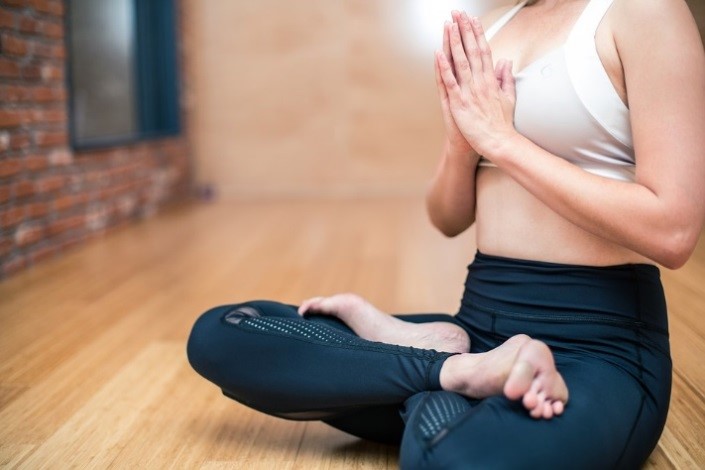 The popularity of yoga practice has risen sharply in recent years. In 2006, already 2.6 million people in Germany practiced yoga regularly (1). The arguments for yoga are widely spread in the population, for example the energy and immune function are increased and back pain, arthritis and stress are relieved (2). For others, the practice of yoga is an important factor in doing something good for themselves, while for others the discipline and control of the body is more in focus.
But, where does yoga come from?
The yoga tradition originates from India, the religion of Buddhism, and has a philosophical background with original roots reaching back over 2000 to 5000 years. The term "yoga" comes from the word "yui", which has its origin in Sanskrit, a very ancient Indian language, and means "unite". Accordingly, yoga refers to the union of body, mind and soul (3).
What exactly does a yoga practice involve?
In western countries the focus is especially on the Asana practice, the postures. The postures can be lying, sitting or standing and should be performed as attentively as possible. All Asanas have associated Sanskrit names and also pictorial names such as the Cobra (Bhujangasana) or the down looking dog (Adho Mukha Svanasana). Further essential elements are the breathing techniques (Pranayama), where the breath is consciously directed (e.g. Kapalabathi, alternative breathing) and the meditation (Dhyana), where the mind is consciously directed, by calming down, insight can be attained and a state of deep relaxation can be achieved.
But, can yoga really have a positive effect on mental and physical health?
In view of the study and literature available, YES!
A meta-analysis results that yoga is effective as a complementary treatment for psychiatric disorders such as schizophrenia, depression, anxiety, and posttraumatic stress disorder (4).
Yoga can have a positive influence on the reduction of depression symptoms, the reduction of stress and anxiety, and can lead to an increase in self-love, awareness and life satisfaction (5, 6). On the physiological level, the results can also be found in the reduction of the stress hormone cortisol (7).
In the case of anxiety disorders, relaxation is a central component of yoga practice. Clients lack confidence, courage and stability, so that autogenic training, progressive muscle relaxation and deep relaxation can be beneficial.
In the presence of eating disorders, yoga can make an important contribution to increasing body satisfaction, awareness and receptivity as well as reducing self-objectivity and psychological symptoms (8). Prevention programs with concentration on yoga appear promising, as body satisfaction and social self-concept have been increased and bulimic symptoms reduced.
Conclusion: The integration into the health system for prevention and complementary therapy seems to be reasonable and as Mind Body Therapy, integrated into the treatment concept, positive effects on mental health can be achieved. In addition to body awareness, yoga concentrates on personal awareness and self-love and has an effect on the emotional, mental, cognitive and physical body levels. The yoga classes can be specifically adapted to the needs of the participants and can be set up in a disorder-specific way.
Advantages of yoga as a complementary therapy:
– Lower costs
– At the same time positive effect on the body
– No side effects
– Preventive and therapeutic support
– Less time required
– New contacts
What do you need to consider?
1. Choice of Yoga-Studio (atmosphere, costs, course offers)
2. Yoga teacher (e.g. education of teacher, authentic)
3. Yoga style (discover your preference, adapt to your daily state, examples follow)
– Vinyasa = flowing asanas, activating, breath and asanas in harmony
– Hatha = origin, breathing exercises, meditation, gentle asanas
– Ashtanga = powerful, always constant flowing sequences, condition
– Yin = relaxing, longer lasting asanas, calm, passive
– Acro Yoga = combination of acrobatics and yoga
– Kundalini = spiritual, mantras singing, meditation, energies
Reference:
1.) Klatte, R., Pabst, S., Beelmann, A. & Rosendahl, J. S. (2016). The efficacy of body-oriented yoga in mental disorders Deutsches Arzteblatt international, 113 (20), 359
2.) Cramer, H., Ward, L., Steel, A., Lauche, R., Dobos, G. & Zhang, Y. (2016). Prevalence, Patterns, and Predictors of Yoga Use: Results of a U.S. Nationally Representative Survey American journal of preventive medicine, 50 (2), 230–235.
3.) Jaquemart, P. & Elkefi, S. (1995). Yoga als Therapie. Lehrbuch für die Arzt und Naturheilpraxis. Augsburg: Weltbild Verlag.
4.) Cabral P, Meyer HB, Ames D. (2011). Effectiveness of yoga therapy as a complementary treatment for major psychiatric disorders: A meta-analysis. Prim Care Companion CNS Disord 2011;13:pii: PCC10r01068.
5.) Ponte, S. B., Lino, C., Tavares, B., Amaral, B., Bettencourt, A. L., Nunes, T. et al. (2019). Yoga in primary health care. A quasi-experimental study to access the effects on quality of life and psychological distress Complementary therapies in clinical practice, 34, 1–7.
6.) Snaith, N., Schultz, T., Proeve, M. & Rasmussen, P. (2018). Mindfulness, self-compassion, anxiety and depression measures in South Australian yoga participants: implications for designing a yoga intervention. Complementary therapies in clinical practice, 32, 92–99.
7.) Bershadsky, S., Trumpfheller, L., Kimble, H. B., Pipaloff, D. & Yim, I. S. (2014). The effect of prenatal Hatha yoga on affect, cortisol and depressive symptoms. Complementary therapies in clinical practice, 20 (2), 106–113.
8.) Neumark-Sztainer, D. (2014). Yoga and eating disorders: is there a place for yoga in the prevention and treatment of eating disorders and disordered eating behaviours? Advances in eating disorders (Abingdon, England ), 2 (2), 136–145.