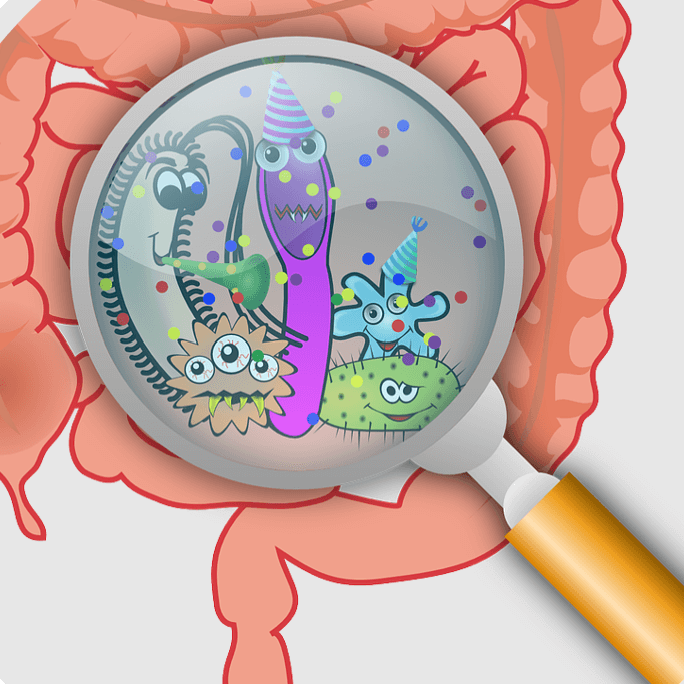 1) Definitie
Het microbioom is een verzameling van microben; bacteriën, schimmels, protozoa en virussen die in en op ons lichaam leven. Ze leven met ons lichaam in symbiose, wat betekent dat ze het lichaam nodig hebben om zelf te overleven en vermenigvuldigen, maar tegelijkertijd ondersteunen ze ook onze gezondheid, zowel mentaal als fysiek. Het microbioom produceert veel verschillende chemische stoffen die ons lichaam zelf niet produceert maar wel nodig heeft. Het grootste microbioom leeft in onze darmen, weegt ongeveer zoveel als ons brein en helpt ons om ons voedsel te verteren.
2) Beschrijving
Het darmmicrobioom en ons brein zijn bi-directioneel met elkaar verbonden door de nervus vagus (de zwervende zenuw), zoals een supersnelle tweebaansweg. Het brein en microbioom staan voortdurend met elkaar in contact om onze lichaamsfuncties te stabiliseren en kalibreren, van onze tenen tot aan ons hoofd. Veel van onze parasympatische reacties (zoals ademen, hartslagritme, ontspanning en ontsteking) worden getriggerd door de vagus zenuw.
De staat van ons darmmicrobioom hangt af van de staat van onze gezondheid. Als onze gezondheid vermindert of verbetert (bijvoorbeeld door een griep of een langdurige ziekte), verandert ons darmmicrobioom mee. Onze hersenfunctie hangt af van de chemische stoffen die het darmmicrobioom produceert en kan daardoor het gezond functioneren van de hersenen beïnvloeden.
Wat we eten en hoe we leven is van invloed op onze gezondheid, maar ook op het darmmicrobioom. Door veel ongezonde snacks te eten, te roken of vervuilde lucht in te ademen verandert je microbioom en dit kan ook je hersenen beïnvloeden. Er komt steeds meer wetenschappelijk bewijs dat laat zien dat door het veranderen van het darmmicrobioom, bijvoorbeeld door middel van dieet, ook hersenfunctie kan verbeteren.