Recipe: Grilled sardines and lentil fennel salad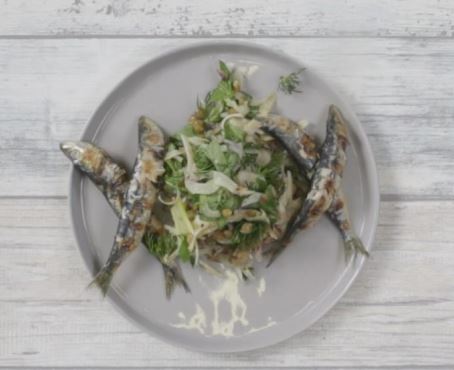 Checklist:
Ingredients:
• 1 clove garlic
• 1 1/2 stems basil
• 1 1/2 stems dill
• 1/2 lemon juice and zest (grated)
• Salt
• Pepper from the mill
• 6 sardines ready for cooking
• 100 g brown lentils
• 1/2 fennel
• 1/2 red onion
• 1 tbsp virgin olive oil
• 1 1/2 tbsp blood orange juice
Cookware:
• Cutting board
• Knife
• Saucepan
• Oven grill
• Bowl
Recipe:
Preparation:
For the fish:
1. Peel 1 clove of garlic and chop in small pieces. Wash 1 ½ stems of dill and basil, pat dry, peel off the leaves and chop finely.
2. Mix the garlic and herbs with the zest and juice of ½ a lemon in a bowl and season with salt and pepper to make a marinade.
3. Wash, pat dry and cut the skin of 6 sardines. Brush the sardines with the marinade made in steps 1&2, and let it rest for 30 minutes.
4. Clean ½ a fennel, wash if necessary, remove the hard stalk and cut the fennel into strips. Peel ½ a red onion and cut into strips.
5. Mix 1 tbs olive oil with 1 1/2 tbsp blood orange juice and season with salt and pepper to make a vinaigrette.
Cooking:
1. Rinse the 100 g brown lentils in cold water and cook in boiling salted water for 25-30 minutes.
2. Drain the lentils and quench with cold water. Mix the fennel with the lentils, the onion and the vinaigrette and fill in small bowls.
3. Preheat the oven grill. Place the fish on a baking sheet covered with baking paper and bake under the grill for 3-5 minutes from each side. Take out and serve with salad.