Whole grain couscous vegetable pan with olive oil (2 persons)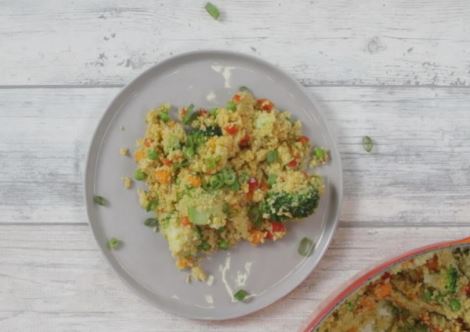 Checklist:
Ingredients:
For the couscous:
• 200 ml classic vegetable stock
• 100 g whole grain couscous
Vegetables:
• 250 g broccoli
• 1 red pepper (approx. 200 g)
• 1 carrot (approx. 100 g)
• 1 clove garlic
• 75 g peas (deep-frozen)
• 2 spring onions
Seasoning:
• 2 tbsp virgin olive oil
• 1 tbsp curry powder
• 1 tsp harissa
• Salt
• Pepper
Cookware:
• Cutting board
• Knife
• Pan of at least 2L
• Spatula
• Fork
Recipe:
Preparation:
Wash and clean 250gr broccoli. Cut off the thick stalk, peel and cut into 1 cm
Cut the remaining broccoli in florets.
Quarter 1 pepper, remove the seeds, wash, and cut into dices of 1 cm.
Wash 1 carrot, peel and cut into 5mm cubes.
Peel 1 clove of garlic and cut into thin slices.
Wash 2 spring onions, clean and cut into fine rings.
Cooking :
Heat 2 tbsp virgin olive oil in a pan of at least 2L. Roast the broccoli, paprika, carrot and garlic over medium heat for about 5 minutes, stirring with a spatula.
Add 75 gr of frozen peas and 100 gr wholegrain couscous and mix well with the vegetables.
Add 200mL vegetable stock and bring to boil.
Cover the pan and let is simmer for 5 – 10 minutes.
At the end of the cooking time, gently loosen the couscous with a fork.
Add 1 tbsp curry powder and 1 tbsp harissa. Season with salt and pepper.
Sprinkle the couscous vegetable pan with the spring onions and serve.