When Healthy Eating becomes too much – Orthorexia Nervosa
On: 10 January 2022 685 views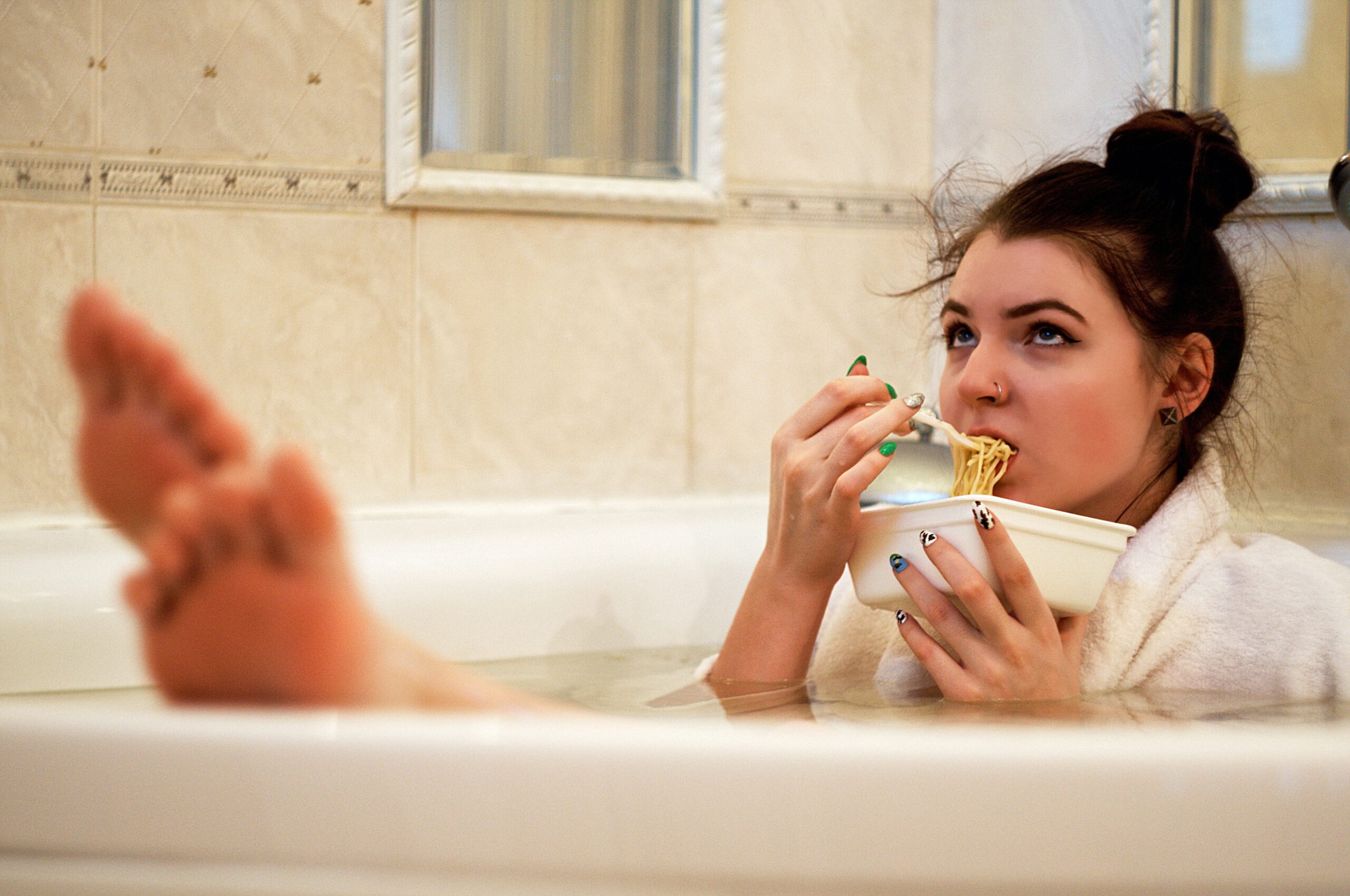 We all know that healthy eating is good for us. But when healthy eating becomes an obsession, this can be harmful. This condition is called orthorexia nervosa. As part of the APPetite-study (work package 3 of the Eat2beNICE-project) I completed my master thesis investigating the role of emotion (dys)regulation, negative affectivity/mood, depressive symptoms, and impulsivity in relation to symptoms of orthorexia nervosa. In this blog I will explain what role mood and emotions play in this condition.
What is orthorexia nervosa?
Healthy nutrition is important for physical and psychological wellbeing [1, 2]. However, a mental obsession with eating healthy can take over one's life. The extreme fixation on healthy food is called orthorexia nervosa. This condition leads to a disproportional fear of "unhealthy" nutrition. Individuals who suffer from orthorexia follow highly restrictive dietary rules to control food intake. On the one hand, this can promote feelings of guilt and self-punishment when self-imposed rules are disregarded and foods that are not considered as "healthy" and "pure" are consumed. On the other hand, when eating the "right" foods, feelings of accomplishment and superiority over others can emerge. This rigid eating behavior may impact personal relationships and cause social isolation. As a result, psychological suffering can arise. From this point of view, it could be argued that orthorexia nervosa should be classified as a mental disorder. However, due to the lack of clearly defined diagnostic criteria and suitable measurement tools, there is still an ongoing debate on whether the condition should be classified as an eating disorder or an obsessive-compulsive disorder [3]. Orthorexia is currently not (yet) part of the common diagnostic handbooks, such as the DSM-5. Nevertheless, it is estimated that roughly between 1-4% of the German population are affected by orthorexia, highlighting the need to investigate this condition and offer treatment options.
The role of emotions in eating disorders
There is no doubt that mood and emotions are associated with eating behavior.
Research suggests that people suffering from eating disorders (e. g., anorexia nervosa) have difficulties regulating emotions, meaning that they use their disordered eating behavior to manage their emotions. This may be both a risk and a maintenance factor for eating pathology [4]. For instance, depressed feelings may make someone eat unhealthy foods, which results in feelings of guilt and shame and increasing negative emotions. Especially a link between negative emotions and disordered eating behavior is often observed in eating disorders. Furthermore, elevated levels of depressive symptoms are reported [5]. Haynos and Fruzzetti [6] postulate that patients suffering from anorexia have deficits in regulating emotional states effectively and use maladaptive restrictive eating habits to cope with negative emotions.
So far, research investigating the link between negative emotions and emotion processing in orthorexia is lacking. Research from 2020 [7] showed that individuals with orthorexia nervosa often have difficulties identifying and regulating emotions However, it remains unclear which specific feelings are linked to orthorexic tendencies. That is why I investigated this further in the APPetite study of Eat2beNICE.
My research on orthorexia nervosa
For my master's thesis I studied the data of 140 German adults aged 18 to 50 years who did not have a clinical diagnosis of a mental disorder. Nonetheless, I found that orthorexic symptoms were linked to other eating pathologies, such as avoiding eating when hungry. These findings provide support to classify orthorexia nervosa as an eating disorder, because a pattern of abnormal eating behavior is relevant to the condition. However, with our study we could not confirm the hypotheses that difficulties in emotion regulation, negative emotions and depressive symptoms are associated with orthorexic tendencies.
We did however find something that we hadn't expected. We found that orthorexic symptoms were related to higher impulsivity. This might be due to the fact that impulsivity and compulsivity have overlapping features and appear to have comparable mechanisms in neuronal functioning [8].
Please note that the association between impulsivity and orthorexia does not necessarily mean that one is causing the other. Further investigations are needed, in order to understand how impulsivity plays a role in orthorexia. The better we understand the connection and their processing in individuals with problematic eating behavior, the better we will be able to treat or help them.
References:
[1] Gantenbein, K. V., & Kanaka-Gantenbein, C. (2021). Mediterranean diet as an antioxidant: The impact on metabolic health and overall wellbeing. Nutrients, 13(6), 1951. https://doi.org/10.3390/nu13061951
[2] Tuck, N.-J., Farrow, C., & Thomas, J. M. (2019). Assessing the effects of vegetable consumption on the psychological health of healthy adults: A systematic review of prospective research. The American Journal of Clinical Nutrition, 110(1), 196–211. https://doi.org/10.1093/ajcn/nqz080
[3] McComb, S. E., & Mills, J. S. (2019). Orthorexia nervosa: A review of psychosocial risk factors. Appetite, 140, 50–75. https://doi.org/10.1016/j.appet.2019.05.005
[4] Espeset, E. M. S., Gulliksen, K. S., Nordbø, R. H. S., Skårderud, F., & Holte, A. (2012). The link between negative emotions and eating disorder behaviour in patients with anorexia nervosa: Negative emotions in anorexia nervosa. European Eating Disorders Review: The Journal of the Eating Disorders Association, 20(6), 451–460. https://doi.org/10.1002/erv.2183
[5] Lavender, J. M., Wonderlich, S. A., Engel, S. G., Gordon, K. H., Kaye, W. H., & Mitchell, J. E. (2015). Dimensions of emotion dysregulation in anorexia nervosa and bulimia nervosa: A conceptual review of the empirical literature. Clinical Psychology Review, 40, 111–122. https://doi.org/10.1016/j.cpr.2015.05.010
[6] Haynos, A. F., & Fruzzetti, A. E. (2011). Anorexia nervosa as a disorder of emotion dysregulation: Evidence and treatment implications. Clinical Psychology: Science and Practice, 18(3), 183–202. https://doi.org/10.1111/j.1468-2850.2011.01250.x
[7] Vuillier, L., Robertson, S., & Greville-Harris, M. (2020). Orthorexic tendencies are linked with difficulties with emotion identification and regulation. Journal of Eating Disorders, 8(1), 15. https://doi.org/10.1186/s40337-020-00291-7
[8] Wildes, J. E., & Marcus, M. D. (2013). Alternative methods of classifying eating disorders: models incorporating comorbid psychopathology and associated features. Clinical Psychology Review, 33(3), 383–394. http://dx.doi.org/10.1016/j.cpr.2013.01.006