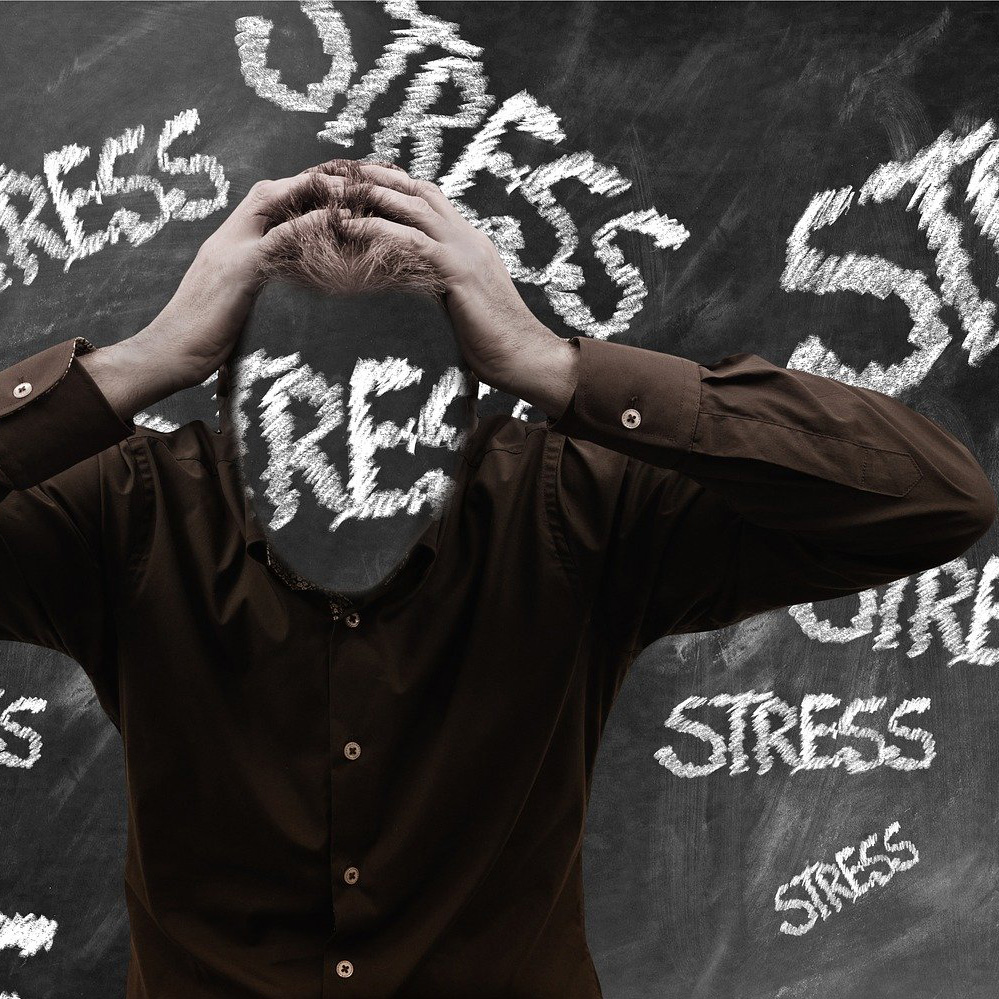 Stel je voor dat je op weg bent naar je werk. Maar als je naar je horloge kijkt, merk je dat je misschien een beetje laat bent om de bus te pakken: STRESS! Je moet rennen om je aan te kunnen passen aan de veranderde situatie. Daardoor gebeuren er veel dingen in je lichaam: je hart pompt sneller, je voelt je sterker en je longen krijgen meer zuurstof vanuit de lucht. Dit is een normale stressreactie – om heel snel te kunnen rennen. Als je eenmaal in de bus zit, wordt alles weer normaal en heb je gewoon een volledig gezonde situatie ervaren.
Als de stressreactie niet stopt als je eenmaal in de bus zit, of wanneer de omgeving leidt tot een langdurige stressreactie, hebben we het over stress die slecht voor je is. Als je lichaam niet weet hoe het om moet gaat met stress, kun je te veel van dit soort slechte stress ervaren; je hele lichaam zal worden beïnvloed. Op welke manier precies verschilt per individu, maar veelvoorkomende stresssignalen zijn:
spierpijn
inslaapproblemen
weinig energie
kwetsbaarder voor ziekte
gebalde kaken
nerveuze gevoelens
veel zorgen maken
(makkelijke) dingen vergeten
niet kunnen focussen
Vergeet niet dat iedereen stress anders ervaart en dat ieders lichaam anders reageert op stress.
Gelukkig weten we ook hoe we stress kunnen verlichten.
De beste manier is om je geest wat rust te geven. Dit kan worden bereikt door middel van sport. Dit hoeft geen extreme sport te zijn, zelfs een mooie wandeling in de buitenlucht kan helpen. Het beoefenen van yoga en meditatie is ook een goede stressverlichting, net als van je afschrijven wat je dwars zit. Het is heel cliché, maar 'leven, lachen, liefhebben' is een andere manier om met stress om te gaan: tijd doorbrengen met geliefden, lachen, knuffelen, zoenen en seks hebben helpt de geest (en het lichaam) om te ontspannen. Ten slotte helpt sommige voeding ook om stress en angstige gevoelens te verminderen. De onderzoekers van het Eat2beNICE-project zijn vooral geïnteresseerd in het effect dat voedsel heeft op de mentale gezondheid, zoals stress of posttraumatische stressstoornis.
Helaas ervaren sommige mensen echt vreselijke stressvolle gebeurtenissen in het leven: een geliefde zien sterven, in gevechten of oorlog verkeren, slachtoffer zijn van een misdaad. Na deze gebeurtenis kunnen mensen last hebben van chronische spanning, angst, herbelevingen aan de gebeurtenis, en mogelijk ook van slapeloosheid of onsamenhangende gedachten . Het is volkomen normaal om bang te zijn, en net als bij normale stress zal het verdwijnen. Sommige mensen blijven deze angst echter minstens een maand ervaren en ze zullen een posttraumatische stressstoornis of PTSS ontwikkelen (het kan jaren duren om de stoornis te ontwikkelen). PTSS beïnvloedt het dagelijks en sociaal leven en patiënten kunnen vaak niet goed functioneren op school en/of op het werk. Als gevolg hiervan komt PTSS vaak voor in combinatie met depressie en overmatig middelengebruik (bijv. drugs en alcohol). Het is daarom uiterst belangrijk om de symptomen van PTSS te herkennen en zo vroeg mogelijk hulp te zoeken.