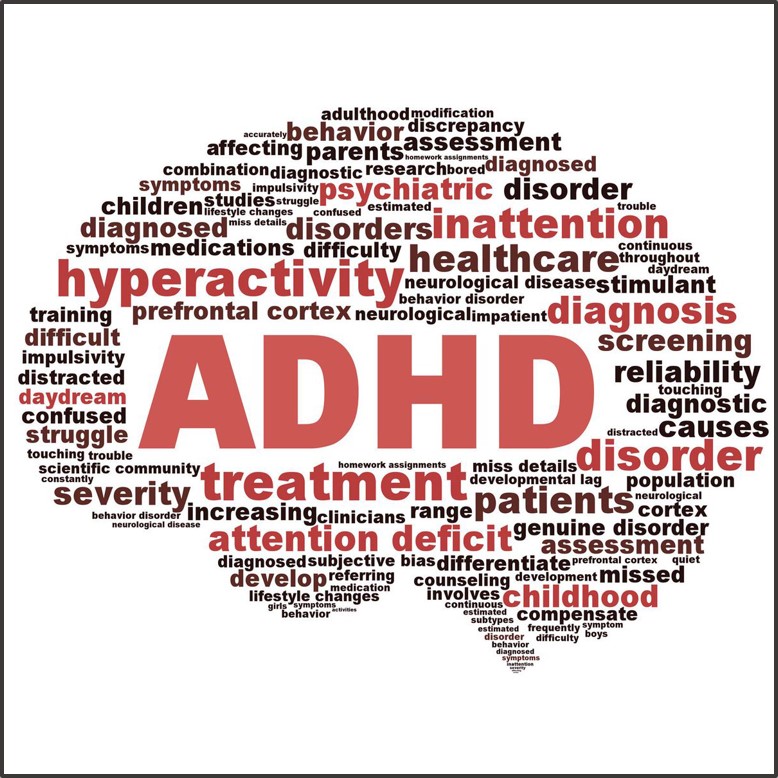 1)DEFINITIE
ADHD is een afkorting voor Attention Deficit Hyperactivity Disorder (aandachts-deficiëntie met hyperactiviteit). ADHD wordt gedefinieerd als een neurologische ontwikkelingsstoornis. Dit betekent dat de stoornis gerelateerd is aan een verstoorde ontwikkeling van bepaalde hersenfuncties, met een typisch begin in de kindertijd. Volwassen kunnen vergelijkbare symptomen vertonen en gediagnostiseerd worden met deze stoornis, mits symptomen aanwezig zijn vanaf de kindertijd. De kenmerkende symptomen van ADHD zijn hyperactiviteit, onoplettendheid en impulsiviteit (ADD is een oudere naam voor dezelfde stoornis en is nu vervangen door de ADHD).
2)OMSCHRIJVING
ADHD wordt gedefinieerd volgens een reeks kenmerkende symptomen, waaronder kernsymptomen die verband houden met hyperactiviteit, onoplettendheid en impulsiviteit. Dit zijn dimensionele eigenschappen, wat betekent dat ze bij alle mensen op verschillende niveaus kunnen worden waargenomen. Belangrijk is dat om in aanmerking te komen voor een ADHD-diagnose, deze kenmerken of symptomen zodanig extreem zijn dat ze het dagelijkse leven van een persoon verstoren en aantasten; op school, op het werk of in sociale omgevingen. Diagnostische criteria zijn belangrijke hulpmiddelen om te classificeren met welke aandoening een individu een vergelijkbare eigenschappen vertoont. Echter geeft een diagnose niet de essentie van een volledig individu weer [1].
Een praktische waarde van diagnostische termen is het vermogen om de communicatie tussen clinici en onderzoekers te vergemakkelijken. De Wereldgezondheidsorganisatie is verantwoordelijk voor de International Classification of Disease (ICD), de diagnostische classificatiestandaard voor alle klinische en onderzoeksdoeleinden. Dit omvat ook de psychiatrische stoornissen. In de Verenigde Staten en vele andere landen wordt echter de Diagnostic and Statistical Manual (DSM-5) van de American Psychiatric Association gebruikt voor klinische en onderzoeksdoeleinden.
Zie voor meer informatie over deze diagnostische criteria de Centers for Disease Control and Prevention-site voor ADHD:
https://www.cdc.gov/ncbddd/adhd/diagnosis.html enhttps://www.who.int/classifications/icd/en/
ADHD komt in alle landen voor, treft ongeveer 5% van de kinderen en komt voor bij ongeveer 2,5% van de volwassenen. Bij kinderen wordt de diagnose ADHD vaker bij jongens dan bij meisjes gesteld, terwijl dit geslachtsverschil bij volwassenen niet wordt gezien. Waarom dit het geval is, is nog niet volledig duidelijk. ADHD heeft een sterke erfelijke factor, wat betekent dat er een genetische bijdrage achter de aandoening zit [2].
De oorzaken van ADHD zijn complex en blijven ongrijpbaar. In het Eat2beNICE-project (https://newbrainnutrition.com/) is een van de taken waar ons onderzoeksteam zich op richt, het ontrafelen van de invloed van voeding en levensstijl tijdens de gehele levensduur op ADHD. We onderzoeken of regelmatige lichaamsbeweging, specifieke diëten of voedingsstoffen, naast een reguliere behandeling, ADHD-symptomen kunnen verminderen.
De diëten die we onderzoeken zijn:
Het mediterrane dieet
Eliminatiedieet
Probiotica
Vitamine-minerale supplementen
Zie deze blogs voor meer informatie over hoe voeding en levensstijl ADHD kunnen beïnvloeden:
Dietary treatments for ADHD
Probiotics and ADHD
Micronutrient supplements and ADHD
Physical exercise and ADHD
The Gut microbiome and ADHD
Blijf op de hoogte via www.newbrainnutrition.com om het project te volgen!