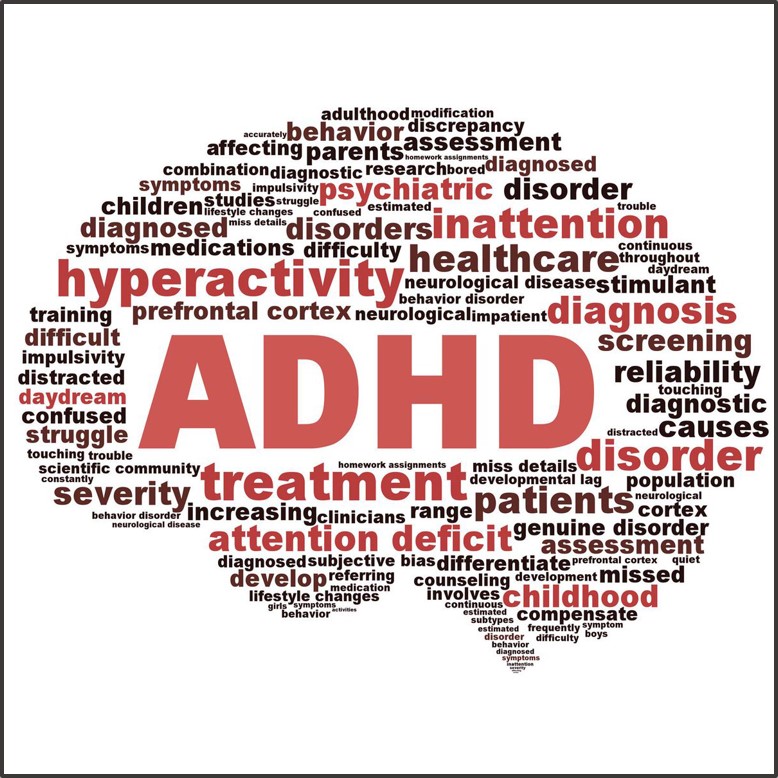 1)Definisjon
Bokstavene ADHD er forkortelse for Attention Deficit Hyperactivity Disorder. ADHD er definert som en nevroutviklingsforstyrrelse, noe som betyr en lidelse relatert til forstyrret utvikling av visse hjernefunksjoner som typisk oppstår i barndommen. Voksne kan ha lignende symptomer og kan også bli diagnostisert med ADHD. De karakteristiske symptomene på ADHD er hyperaktivitet, oppmerksomhetsvansker og impulsivitet (ADD er en eldre betegnelse på ADHD med kun oppmerksomhetsvansker, men erstattes nå av ADHD).
2) Beskrivelse
ADHD er definert av et sett med karakteristiske symptomer, som inkluderer kjernesymptomer relatert til hyperaktivitet, oppmerksomhetsvansker og impulsivitet. Dette er dimensjonale trekk, noe som betyr at i hvilken grad en har et trekk varierer fra person til person. Symptomene i seg selv er ikke nok til å kvalifisere for en ADHD- diagnose; de må være av en slik grad at de går ut over hvordan en fungerer i det daglige livet; på skolen, jobben eller i sosiale sammenhenger. Diagnostiske kriterier er et viktig verktøy for å klassifisere hvilken lidelse en person har. Imidlertid er en person mye mer enn selve diagnosen [1].
Diagnostiske beskrivelser er nyttige for å legge til rette for kommunikasjon mellom klinikere og forskere. Verdens helseorganisasjon er ansvarlig for å utarbeide «International Classification of Disease» (ICD), en diagnostisk klassifiseringsstandard som brukes i både klinikk og forskning. Denne inkluderer også psykiatriske lidelser. I USA og mange andre land brukes imidlertid American Psychiatric Association's Diagnostic and Statistical Manual (DSM-5.
For mer informasjon om disse diagnostiske kriteriene, se Center for Disease Control and Prevention site for ADHD: https://www.cdc.gov/ncbddd/adhd/diagnosis.html  eller https://www.who.int/classifications/icd /no/
ADHD finnes i alle land og rammer ca. 5% av barna og 2.5% av voksne. Flere gutter enn jenter blir diagnostisert med ADHD i barnealder, mens denne kjønnsforskjellen ikke sees blant voksne. Hvorfor dette er tilfellet er ennå ikke helt forstått. ADHD har en sterk arvelig faktor, noe som betyr at det er et genetisk bidrag bak tilstanden [2]. Årsakene bak ADHD er komplekse og er fortsatt ikke klarlagt. Vår forskningsgruppe i Eat2beNICE-prosjektet (https://newbrainnutrition.com) fokuserer bl.a. på hvordan kosthold og livsstil påvirker ADHD. Vi undersøker om regelmessig fysisk trening, spesielle dietter eller næringsstoffer kan redusere ADHD-symptomer, i tillegg til allerede anerkjent medikamentell og ikke-medikamentell behandling.
Ulike typer kosthold og dietter vi undersøker er:
1. Middelhavskosthold
2. Elimineringsdiett
3. Probiotika
4. Vitamin- og mineraltilskudd (mikronæringsstoffer)
For å lære mer om hvordan kosthold og livsstil kan påvirke ADHD, se disse bloggene:
• Micronutrient supplements and ADHD
Følg med på www.newbrainnutrition.com for å følge prosjektet!
---